How Quickbooks Can Hurt Restaurants
This year, we performed a miracle
We helped two restaurant groups to get consolidated profitability reports for the QuickBooks files from multiple locations.
WHY DID THIS REQUIRE A MIRACLE?
It seems QuickBooks is not known for easy consolidation of multiple entities; in fact, they are known for the exact opposite. But using QQube for QuickBooks, we are able to provide accurate Profit & Loss Reports that allow the user to instantly select one, several, or all entities – and run the report either consolidated or standalone with a single click.
Seriously – that's a miracle in QuickBooksLand.
If you're a restaurateur, you already know how important it is to compare apples to apples, so to speak.
Are you comparing apples to apples?
Think about it. Typically, what are the best nights for a good bar or restaurant? Thursdays, Fridays and Saturdays.
The problem is, every month has a different number of "hot nights". If every year started on a Monday, and every month had 28 days, planning for the future and comparing to the past would make total sense—and it would be simple. No miracle required.
SADLY, IT'S NOT SO SIMPLE WITH QUICKBOOKS ALONE
In 2015, October had the maximum number of Thursdays, Fridays, and Saturdays—five of each. This year, October had just four Thursdays and Fridays, and five Saturdays. Comparing the sales and costs for those two month periods is like comparing apples and ravioli!
That's why many successful restaurants operate on a different kind of calendar. It's called a 52/53 Tax Year—made up of 13 four week periods. Fortunately, QuickBooks can handle that when it comes to the Actuals (revenues, costs, and expenses). Rather unfortunately, it cannot handle more than 12 months of budgets.
So, if you want to compare Actuals to carefully calculated Budgets, you're out of luck.
Restaurant owners who fail to take this into account can often make poor decisions. Poor decisions based on what they thought was accurate analysis. But then they're left wondering, "what went wrong?"
HERE'S HOW DATISFY FIXES THIS PROBLEM
There are three tools we use, in conjunction with QuickBooks desktop, to pull off this miracle.
QQube for QuickBooks—to get the Actuals into the correct 13 four week periods and allow for consolidation.
An external data source—to store the 13 budget period amounts to match with every account in your QuickBooks Chart of Accounts. We usually use Excel because it's cheap and cheerful—and easy to edit.
Crystal Reports—to combine the two data sources and then present the Actuals in comparison to the Budgets in their 4 week periods.
It's not entirely the fault of Intuit. It's can't be everything to everyone! But here is a link to how they DO help restaurants: https://quickbooks.intuit.com/restaurants/
WHAT OUR CUSTOMER SAID ABOUT US
For years we posted requests for help here AND called Intuit the developers of Quickbooks and begged for a Budget vs Actual report based on a 13 period year. Intuit told us it was "under consideration" but did nothing. We were lucky to find new friends at Datisfy that created real time Budget vs Actual reports for all 6 of our venues. We couldn't be happier with their work. We incorporated the budget template on this site and now with a few clicks we can see where we are against our budget. Happy to share the good news!
Kevin Fitzpatrick – Restaurant Owner
WHY ARE PROFITABILITY REPORTS SO IMPORTANT TO RESTAURANTS?
If accurate planning is important to you, comparing the same set of weekdays for October 2015 and October 2016 would lead you to extremely precise ordering, staffing and advertising.
Accuracy and certainty in these areas makes everyone less stressed and the customers happy and relaxed.
And this subtle—but important—tweak makes restaurants much more profitable! Who wouldn't want that?
Bon appetit!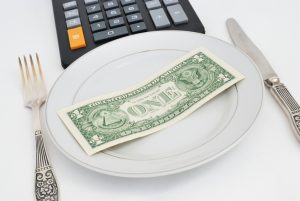 Stop leaving money on the table!

Are You Report Ready? Take the Quiz!